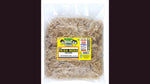 Top Ten Reasons to Use Jamaican Sea Moss
Seamoss, often known as Irish moss, is a mineral-rich plant. It's a type of red algae that develops on Europe's and North America's Atlantic beaches' stony slopes. Ninety-two minerals are present in Sea Moss, out of a total of 102 in the human body. You may also use Jamaican Sea Moss that has the same benefits as Irish Moss.
Collagen (supports hair, skin, and nails) 
Seamoss includes collagen, which helps to cure hair, skin, and nail issues naturally. If you have eczema, acne, or psoriasis, you can apply Seamoss gel to the afflicted region.
Furthermore, it aids in the removal of dark spots and inflammations. The collagen in Seamoss helps to maintain the health of your skin, hair, and nails. It is one of the most effective treatments for black spots.
If you're looking for another way to boost hair growth, Jamaican black castor oil is the way to go. It is known to increase blood flow to the scalp and treat a variety of hair problems.
Supports Healthy Heart and Thyroid Function
Seamoss includes a vitamin that is good for thyroid health. It has a lot of iodine, which helps with thyroid function. In addition, it is one of the best sources of omega-3 fatty acids, especially Irish moss. Omega-3 fatty acids can help with Heart disease, blood clots, excessive cholesterol, and high blood pressure. Irish moss aids with improving heart health.
Promotes Good Digestion
Seamoss incredibly sucks toxins out of the body due to its jelly-like nature. Most importantly, it improves metabolism and promotes good digestion. Since it is high in fiber, it is beneficial in treating indigestion, gastritis, ulcers, and constipation.
Aids in Weight loss
Sea Moss also helps one lose weight. It is ideal when it comes to reducing body weight. The extracts from it do that by regulating gene and protein expression. 
The fact that it is abundant in minerals and vitamins makes you feel satiated for longer.
Improves Sexual Health & Fertility in Men & Women
Anyone who wants to improve their sex drive should take sea moss. Sea moss increases circulation throughout the body due to its anti-inflammatory effects. If you have problems with sex-related desire, stamina, erection, or other anomalies, you should try taking sea moss daily.
Sea Moss for Post-workout Recovery
Collagen proteins found in Sea Moss aid in the formation and mending of connective tissues. As a result, it's ideal for post-workout healing. It aids in body recovery after an exercise due to its anti-inflammatory properties. People of all fitness levels, from learners to athletes, should try Irish moss.
Filters out Germs
During blood circulation,Sea Moss  filters away germs and other microbes. As a result, blood circulation gets better in general.
An Excellent Appetite Suppressor
Because of its high mineral content and nutrition density, sea moss is an excellent appetite suppressor. Sea Moss  goes through the intestines, reducing inflammation and eliminating toxins. Consumption of sea moss daily will aid in the elimination of cravings and, as a consequence, return the body to its adequate weight.
An Excellent Source of Iron
 Sea Moss contains iron, which aids in the treatment of iron deficiency. People with iron defiance should rely on this since it is rich in iron.
Sea Moss 

 contains a lot of Nutrients.
 Sea Moss provides over 90 percent of the required nutrients. It aids in the general improvement of your health. It is high in Vitamin B, beta-carotene, Sulphur, and magnesium, among other nutrients, making it an excellent dietary supplement.
Conclusion
Both Irish and Jamaican Sea Moss  is beneficial to one's general health. You may benefit from them by using them to boost your overall health. Our list of the top 10 reasons to use Sea Moss  may have clarified things for you.