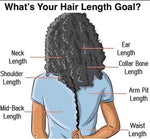 Hair Goals and Hair Styles.
When achieving your hair goals, style is one of the most critical factors. To find the perfect hairstyle, collect references of hairstyles that you like and include daring ones. Hairstyles are meant to inspire you, so take the time to contain references that will help you achieve your hair goals. Listed below are some tips to achieve your goals:
Getting your hair to your dream length.
Getting their hair to its dream length can be daunting for some people. Not only are they constantly concerned with split ends that can result in the need for a haircut, but their hair is also more susceptible to breakage and damage as it grows longer. One way to avoid split ends is by regularly using a product like Elvive Dream Lengths. The enriched formula of Keratin, Vitamins, and Castor Oil helps prevent breakage and split ends and makes brushing and styling your hair more manageable.
Maintaining your hair's health.
While you may not have ever given your hair the care it deserves, you can take steps to improve its health. UV exposure, physical wear, and pollution all play a role in the state of your hair. Even your hairstyle can significantly impact your health, including how long it stays in a particular style and how often you use hot tools. Consider regular deep conditioning, semi-weekly steamer sessions, and protein treatments to keep your hair healthy.
Choosing a style.
Changing your hairstyle can change your appearance significantly. Here are some tips to help you choose a new look that suits your face shape. Listed below are a few things to consider when choosing a new hairstyle. They'll help you make a bold, confident statement. You'll probably love the look if you've always admired someone with a wavy or curly hairstyle!
Changing your hairstyles.
The summer is the perfect time to switch up your style and add color to your life. A new hairstyle can also set the mood for the season and make it memorable for you. The same is true for your wardrobe. Whether you want to dress casually or formally, changing your hairstyles will give you a fresh look and feel.
Different hair types require different regimens.
Determine what hair care products you need to maintain the health and texture of your hair. If your hair is chemically processed, pay special attention to how often you need to shampoo and style it. If you're aiming for a voluminous, silky look, make sure you focus on maintaining the health of your hair and sealing in moisture.
Identify your hairstyle goals.
Decide on your hairstyle goals by collecting references to the hairstyles you like. Don't be afraid to try out bold styles. After all, the point of hairstyles is to be inspired. Your goal is to look like the person you want to be, so make it a point to motivate yourself and others. Then, start a regimen for it!
Determine the products that suit best to your hair.
Finally, determine the products you'll need to achieve your desired hairstyle. These may include a shampoo, conditioner, styling product, hair treatment mask, and hair mask. You can even switch out products if you're unhappy with the results. You'll have a well-rounded haircare routine that works for your lifestyle. It will also help you identify the problems you're experiencing with your hair and offer solutions.