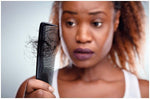 HOW TO STOP HAIRLOSS, USING
"POTENT JAMAICAN BLACK CASTOR OIL" 
Hair loss is one of the most important, yet most common physical problem nowadays. Every other person is suffering from the loss of their hairs. There's only so much we can do to stop when it's an age factor. But, when it's seasonal or chemical, there's always a possibility to prevent that hair loss.

The most effective way is to treat hair naturally rather than using chemicals. Here, we will recommend you a natural cure and we can assure you that you'll be happy and satisfied with the results. 
Is your hair fall the result of chemical damage or weaves, braids? Not a problem! Sure, it happens to everyone, but not necessarily does it have to happen to you. Use our very own and very natural products to make your autumn and/or winter break memorable and living your best life in these days. Not worrying about the humidity of the weather outside, you can do whatever you want, go wherever you want. The most commonly used hair chemicals known for the most dangerous substances to weaken hair and scalp are hair colors, hair rebounding and hair extensions. Although all the above three treatments are temporary, their side effects are long term. So, the question is, how can we treat these chemical reactions? 
The answer is, through natural remedies that include natural ingredients, and nothing else. 
POTENT JAMAICAN BLACK CASTOR OIL is an essential and effective solution for your hair needs. It helps strengthen your hair by going straight into the pores and nourishing your scalp. It retaliates the damage occurred by all these chemical treatments. Not only that, but it also makes your life easier by shooing away the headache caused by all the work you do in a day. Most people don't do anything about it, or don't really know what to do. Oiling is always considered a great solution for hair and scalp. But most oils you buy from stores nowadays also have oodles of chemicals in them. Want a healthy and safe way to hair oil? 
One of our best products that we recommend for your hair strength is STRENGTHEN POTENT JAMAICAN BLACK CASTOR OIL. It contains oils from the best natural resources like, garlic, rosemary and Yuka. These ingredients help prevent hair loss due to chemical damage or weather conditions. These ingredients when combined together with zinc, vitamin E, Sulphur, stevia leaf, and fotti oil, also restore your lost hair. 
Our oils are available in different bottle sizes, i.e, 4 Oz (approximately 120 ml) and 8 Oz (around 236 ml). 
HOW TO USE :  
Put a few drops on your palm. Then dip  your four fingers into it, then massage lightly, but deeply into the scalp. Leave it overnight. Wash it off in the morning. if you choose. 
WHEN TO USE:  
Should use daily for results, but the best time to use this oil is each night before going to bed.